Best Commercial Building Insurance for Your Property in Melbourne
A commercial building is a huge investment that needs continuous insurance coverage. Without the right insurance cover, it is vulnerable to all kinds of damage that may affect its value as well as condition. Commercial building insurance protects your property in multiple ways. It covers any loss caused to your business premises from any mishap and damage caused by theft or vandalism.
CP Insurance Services is a leading provider of commercial property insurance plans based in the Melbourne. Our team provides expert advice and insights to get a structured insurance policy coverage for your business premises at competitive premiums.
We also work with all the top insurance providers in Australia and have access to hundreds of insurance products, plans and policies. This, coupled with our years of experience allows our insurance brokers to find tailor-made insurance products and packages for you.
How Does Commercial Property Building Insurance Protect You?
Business building insurance provides protection against any unforeseen events that can cause a major loss or damage to your commercial property or its contents. Such insurance covers are a legal and compliance requirement for various businesses engaged in the production or storage of potentially hazardous products or equipment.
You can take a commercial property building insurance policy to cover all types of non-residential buildings, such as:
Types of Commercial Property Insurance
Commercial property insurance can be taken as a package or as a stand-alone policy. You should always ensure that the nature of your business and property type is discussed with the insurance broker before taking a policy. Insurance for commercial properties can be differentiated based on coverage and the various accidents they provide protection against.
The business building insurance protects your commercial property against:
You can also take additional coverage for:
Direct causes for business loss
Furthermore, you should always check and compare the different policies, commercial property insurance costs and plans of various insurance companies that cover:
If you are a landlord who has let out a commercial building to another business, landlord insurance that protects your building against any damage is perfect for your needs.
Benefits of Commercial Property Insurance
The benefits of business premises insurance cannot be overstated. As a business or commercial property owner, you realise the true value of commercial property insurance only when your building or enterprise faces an unforeseen event or mishap. The resources of any business, whether large or small, can be severely strained by replacement or rebuilding costs or both. Add to that the cost of replacing expensive equipment, ready-to-ship stock, injury to workmen and other public liabilities arising out of the mishap, and the total expenses can be crippling.
However, with business building insurance, you need not stress about the repair or replacement costs. Instead, you receive:
Financial aid: Commercial property insurance ensures that you get financial aid for the cost of rebuilding, repairing or replacing the building. You can also claim the cost of rebuilding at the same or a different site – in case of irreparable building damage. Such policies also cover the cost of replacing lost stock and equipment.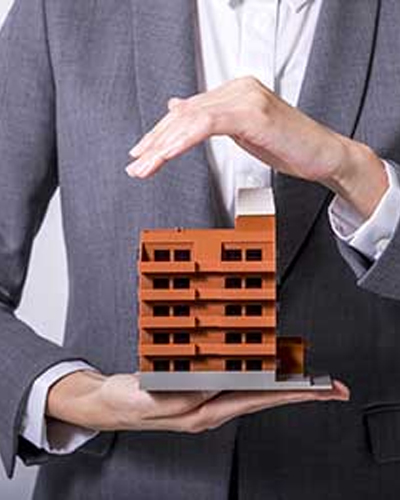 Peace of mind: A business building insurance offers the building or business owner complete peace of mind and a sense of security. This comes from the knowledge that in case of any interruption in business processes due to an unforeseen event, financial aid will be provided to overcome the disruption or loss. This helps businesses focus on strategies to restore and resume normal operations.

Business recovery: Both big and small businesses can come under severe financial stress due to unforeseen or unexpected events that affect the building from where it operates. The financial setback can cause serious problems like cash flow interruption, the need to take high-interest emergency loans or can cause the business to go down. With commercial property insurance, the business can get paid for rebuilding the structure, restoring the inventory and paying for loss of working hours or downtime i.e. business interruption.

Comprehensive package policy: Depending on your requirements, the nature of your business and the various risks, you can take a comprehensive package policy. The cost of a business premises insurance package policy is usually higher than a standalone policy. However, it provides all-around coverage to businesses and is more cost-effective in the long run.
Why CP Insurance Services?
CP Insurance Services is a trusted insurance brokerage company in the Melbourne. We provide expert advice on various commercial insurance plans that suit your business the best. As a reputed insurance broker for many clients across Melbourne, we have access to hundreds of insurance policies, including broker-only products.
With us, you get various benefits, such as:
Knowledgeable insurance brokers

No overpromising or false information
Dedicated point of contact
Are you ready to discuss the best commercial insurance for your business? You can call us on 1300 884 698 for queries or to book an appointment with one of our top insurance consultants. You can also contact us by filling out our online contact form on our website.
We are an award winning company